Sapphire Radeon HD7770 OC 1GB GDDR5 PCI-E Graphics Card
The new SAPPHIRE HD 7700 series is a new family of graphics cards targeting the enthusiast on a budget and mainstream users looking for increased graphics performance. It is based on the second family of GPU's from AMD built in its new 28nm process and featuring the highly acclaimed GCN optimised graphics processing architecture.
PNY Quadro VCQ600-PB Low Profile Graphics Card
Built for Professionals™, and certified on leading CAD and DCC applications, NVIDIA Quadro 600 by PNY delivers the best performance per watt in its class, maximizing productivity while conserving energy. Designed for both small form factor and full height workstations, the NVIDIA Quadro 600 by PNY delivers advanced capabilities, allowing you to design, iterate and deliver higher quality results in less time.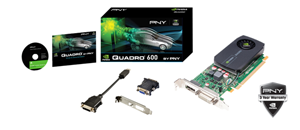 Gigabyte GV-N660OC-2GD GTX660 2GB PCIE
Brand-new instinctive user interface, easier to monitoring and adjusting all
important settings. Users can set up MONITORING, GPU CLOCK, MEMORY CLOCK, FAN, GPU VOLTAGE, Memory VOLTAGE, OSD, ONLINE SUPPORT and update driver, BIOS directly.
Gigabyte GV-R545-1GI HD5450 1GB DDR3 PCIE
Using high quality components on graphics cards is the key factor for having a long lasting, stable and reliable product. GIGABYTE is again setting a new standard by using Ferrite Core Chokes, Low RDS (on) MOSFET and Lower ESR Solid Capacitors, providing the stability and reliability from their high-end graphics solution. In addition, GIGABYTE Ultra Durable 2 Edition graphics cards now feature a sophisticated layout topology. This state-of-the-art power design from GIGABYTE delivers the ideal integration of thermal, electric characteristics, digital signals, power circuitry and optimum placement of components for enhanced graphics performance.
Sapphire Radeon HD6570 1GB DDR3 PCI-E HDMI / DVI-D / VGA lite Graphics Card
Packed with the latest GPU technologies, the Radeon™ HD 6570 graphics processors offer advanced video and display features, HDMI 1.4a for stereoscopic (3D) displays, as well as 2nd generation support for DirectX 11 to offer the ultimate in versatility for the everyday computing desktop.
Robert Walsh computer services, Robert Walsh, computer, computers, computers services, service computers, service computer, 125 Russell street westport new Zealand, 03 789 7167 03 789 5156 0275 792 574, fix and repair computers, sales and services computer equipment, laptops, computers, monitor, vdu, screen point of sale, barcode scanners, web cams, web cameras, digital cameras, projectors, data projectors, components, mice, mouse, keyboard, sound cards, mp3 players, graphic cards, video card, USB, hub, switch, network card, network cable, all makes and models of computer equipment.